Love letters. Mushy, gushy, oh-so-cheezy love letters. Who wouldn't want one? When Seth and I first started dating (and for those of you out there who are giggling because you know we only dated for a few weeks before our engagement….just keep on giggling….glad to entertain you…) he hand-wrote a little letter and sent it to me in the mail, with a box full of boxes of DOTS. Yes, my favorite candy. He won me over that day. I knew I was going to marry him (yes, it's that simple of an equation: hand written letters + candy = winning my heart over-FOREVER). Sadly, the days of handwriting are slowly slipping away and emails, texting, tweeting and facebook messaging are becoming the way of life. But there is something so romantic and thoughtful about taking a few moments and putting your feelings down on paper.
I hadn't thought about love letters for a long time, until I came upon this lovely article. Apparently, writing love letters gives your relationship a better chance and promotes you to use more positive language when you talk to one another. Today's post is an encouragement to go out and write your loved one a letter. A permanent note, that they can keep somewhere special as a reminder about how you feel. Whether you have been together for two weeks or two decades, writing a love letter is good for your relationship.
And, for some encouragement, check out this love letter written over 100 years ago….can you imagine having someone spend this much time on a note for you!? Adding pictures and a code to your letter, makes it that much better…see if you can make sense of it, before you read the transcript.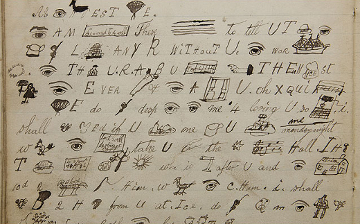 Transcript
My Dearest Fanny,

I am writing these few lines to tell you that I cannot live any longer without you. I worship you always. I think you are a beauty and the nicest girl I ever saw and I adore you. Oh exquisite Fanny, do not despise me for loving you so well. I shall be broken-hearted if you desert me. Can you meet me on Monday night, when I will take you to the Star Music Hall. I hate that Bill Robinson, who is hanging after you and I intend to horsewhip him when I see him. I shall be delighted to hear from you at once. Do not let my suit be fruitless. Reply by next post to

Your loving

William Weightman